Welcome to SSS-Class Suicide Hunter Wiki!
---
Administrators • Recent Changes • Missing pages • New Photos •
New Pages • Categories • Help Wiki
---
Welcome to the wiki,
anonymous user
! Please help us by creating or editing any of our articles! To maximize your editing experience, you must login or register to wikia.
As of the 30th of June, there are currently:
466 Pages • 130 Articles • 174 Files • 2,457 Edits • 6 Active Users
NOTE: This wiki contains SPOILERS, read with caution!
Synopsis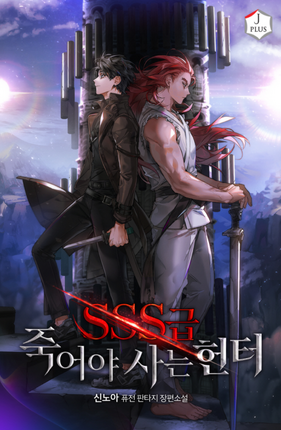 SSS-Class Suicide Hunter (SSS급 자살헌터) is a popular light novel later converted to Manhwa covering Action, Adventure, and Comedy genres. It is written by the Author Shin Noah and illustrated by Bill K.
---
I want an S-Rank skill too! I want it so badly, I could die for it!
[You have awakened an S-Rank skill.] [But it only works when you die.]
Eh !? WHAT IS THE POINT OF GETTING ONE IF I DIE !?
---
On April 27, 2021, J Plus Media had announced that SSS-Class Suicide Hunter (SSS급 자살헌터) will change to SSS-Class Hunter Who Lives To Die (SSS급 죽어야 사는 헌터) starting from that day on. Since the first anniversary of SSS-Class Hunter Who Lives To Die is approaching soon, they've released a new cover of the novel with the new title on May 14, 2021, illustrated by PAN4.
Help expand our knowledge!
This fandom is made by and for any fans of SSS-Class Suicide Hunter (SSS급 자살헌터). If there are any spelling mistakes, missing information, new information, please do share it with us! Together we'll make a good fandom for all new fans!
---
To create a new article, just input the title in the box below!
Reminder
Opinions
Your personal opinions are not facts. Please keep to unbiased/objective contents. If you want your opinion to be known, post it on [[User_blog:Anonymous User|your blog]].
Halooo.Hacker (talk) 14:35, 09 January 2021 (UTC)
Featured Article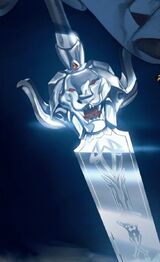 Holy Sword of the Goddess of Protection
---
Holy Sword of the Goddess of Protection is a Crucial Sword for Aegim Empire on SSS-Class Suicide Hunter (SSS급 자살헌터)
This was a sword type weapon with a luminous silver color that looked like it was made of Platinum. There was like a gaping lion face upside down in the middle of the sword. This sword will continue to glow when Aura is put into it. This sword is the sword of the founder of the Aegim Empire and is considered very important by the people of the Aegim Empire.
KAKAO

Foxtoon

Ridibooks

KakaoPage

Lezhin

Naver

---
Random Quote
"

I think I will be crazy if I have to spend one more day with you. You're so noisy.

"

 on Chapter 9
Novel and Webcomic External Links
---